2014 Summer of Excellence - Instructions
Please read the instructions below before you place your Excellent cache.
How to Place a Summer of Excellence Cache:
Read the GROUNDSPEAK GUIDELINES carefully and submit a cache to gc.com in the same way you would normally. Only caches that meet the Groundspeak and any other local guidelines will be eligible for the 2014 Summer of Excellence.
***DUE TO GEOCACHING.COM GUIDELINES, IF YOU WISH TO HAVE YOUR BLITZ CACHE PUBLISHED ON MAY 18TH YOU MUST SUBMIT IT AT LEAST 14 DAYS IN ADVANCE AND POST A NOTE TO THE REVIEWER TO THAT EFFECT***
There is no rush as caches can be published anytime from May 18th to August 4th
There are three additional steps to ensure your cache is entered in the Summer of Excellence contest. The first step involves the Title / Header of your cache.
Step #1)
Insert: B14: at the beginning of the header followed by a colon and your cache name. This lets us know that you are submitting a cache especially for the Summer of Excellence.
Please post a reviewer note that your cache is part of the BCGA Summer of Excellence and should not be published before May 18, 2014
Your header should read: B14: name of your cache If you wanted to call your cache "Unlimited Ducks" your header would look like this
B14: Unlimited Ducks
You can remove the B14: tag from the cache once the Blitz is finished.
Step #2) Next, choose your location. This will show us where your caches are located. This is important for voting procedures as each region will have separate prizes. Place the region code on the bottom of your cache page.

LM: Lower Mainland

TO: Thompson/ Okanagan

FV: Fraser Valley

KR: Kootenay / Rockies

NO: Northern BC

IS: Vancouver Island South

IN: Vancouver Island Central and North.


Step #3) The BCGA has developed a way for cachers to vote for your cache as they log their find. Make sure your listing has the "The descriptions below are in HTML" box selected and then, as the last item in your cache listing, insert (copy and paste) this block::


YOUR_REGION_CODE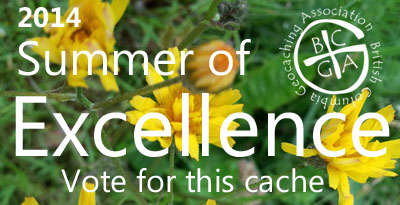 You MUST replace the text YOUR_REGION_CODE with the correct caching region you will be entering your cache in (LM,TO,FV,KR,NO,IS or IN)

In order for the button to specifically direct cachers to vote for your cache, you must replace where it says YOUR_GC_ID_HERE with your cache's GC ID. Your GC ID is the seven digit number starting with GC on the top right corner of your cache page.

This block will automatically display a button and link on your cache page. If you live in the Vancouver area and plan on attending the Lower Mainland event your location code and Button will look like this:

LM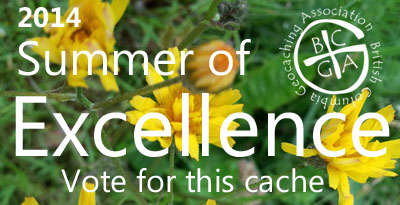 Your cache will be submitted manually by BCGA staff onto the Summer of Excellence voting system. Please ensure that you have followed the above instructions for your cache to be processed quickly. Failure to do so may slow the process and cost you votes.
How to Vote for a Cache:
The BCGA is using the same electronic voting as in prior years. This will allow cachers to vote for each cache as they log their find.

Click on the VOTE button on the bottom of the cache page. This will lead you to an automatic voting system.

Rate the cache using the scale provided (5 being the most excellence and 1 being the least excellent).

Click on the "SUBMIT" button and your vote will be automatically tabulated