Gold Country is the proud owner of one of Canada's best Geotours, the Gold Country Geotour. (please note the author of this story may be slightly biased!) Currently, our Geotour holds 142 caches; at our annual event this year our Geotour will be expanding with the addition of 8 new geocaches bringing the total to 150!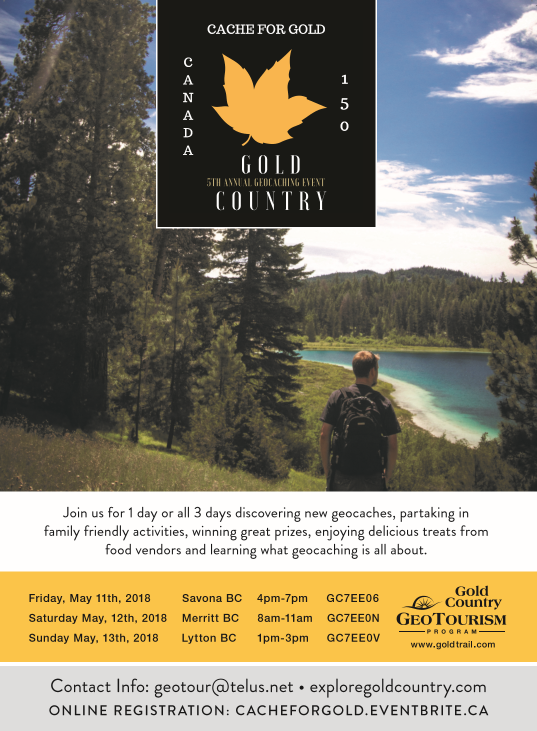 Gold Country stages a multi-day event each year to promote the best Geotour ever, share geocaching fun in Gold Country, meet and greet other awesome geocachers and to release new geocaches. Last year the terrible wildfire situation caused the postponement of the event and all the fun! But now the event is rescheduled and ready to rock for May 11th, 12th, and 13th, 2018. We will be hosting events in the communities of Savona, Merritt and Lytton and we will have amazing games, great prizes, raffles, delicious food vendors, new geocaches throughout Gold Country and of course participants will be the first group to get their hands on the coordinates of the 8 new Gold Country Geotour geocaches before they are published online!
Participating in our event is absolutely FREE BUT our registration bags are going to be very well stuffed this year as well, including complimentary raffle tickets, vouchers for tasty treats at our events, very cool swag from Gold Country plus much more. The proceeds from the registrations are used to sponsor the event, Early Bird registration ends soon so be sure to register right quick!
Now for the important info:
For more info on this great event, you can visit http://www.exploregoldcountry.com/annual-geocaching- event/
Log your will attends:
Register online www.cacheforgold.eventbrite.ca