GEOCOINS
We have a number of exclusive designs available to you by contacting us directly – all details available at the bottom of this page.
"Time to Explore" Trackable Lapel Pin
Check out our newest trackable available.   It's a one-inch cream, green and black lapel pin, with a post clasp on the back.   This unusual trackable is $15.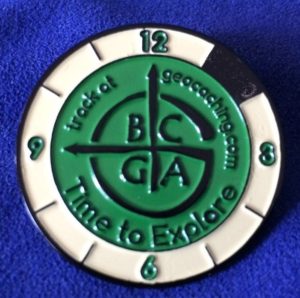 OLDER COINS ON CLEAR-OUT SALE
2014 Anniversary Geocoin  (Available in Silver or Copper)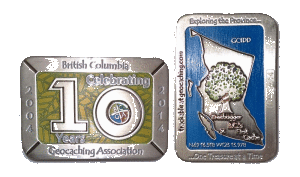 Our 2014 coin is available for $5 (50% off) – but if you would like a proxy coin, we will send both for $10 (33% off).
What is a proxy, you ask?  It's two identical coins with the same trackable number.  You send one out into the world to have adventures, and you keep one safe in your collection at home.
2013 Geocoin
This geocoin is available in both member and non-member editions – please be clear when ordering – for only $5 (50% off).
Non-Member Coin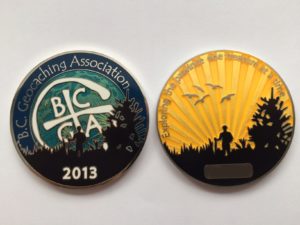 Member Coin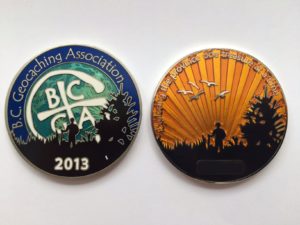 PATHTAGS
We have two different pathtag designs, each available for $4.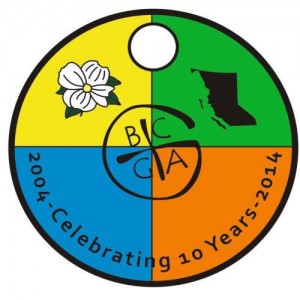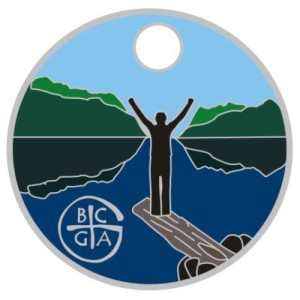 Please choose either Style A, the ten year anniversary design, or Style B, the celebration design, or, of course, both.
ORDERING AND SHIPPING INFORMATION
Ordering:
Please order through PayPal, using the friends and family option, at www.paypal.com, sending your total payment to us at [email protected].
(If you prefer not to use PayPal, please contact us at [email protected] with the details listed below and we will make further arrangements with you)
IN THE NOTES or SPECIAL INSTRUCTIONS SECTION YOU MUST INCLUDE THE FOLLOWING DETAILS:
A clear description of the items you are purchasing,
The total cost of the items, including shipping, calculated from the list below,
Your email address, 
The address you would like us to send your item(s) to.
Shipping costs:
Free pickup in Lower Mainland or Kelowna
Canada: $6.50 for first 3 items & $2.00 for each item over 3
US: $10.00 for first 3 items & $2.00 for each item over 3
International: $15.00 for 1-3 , $ 2.00 for each additional item
All coins are available to the general public.